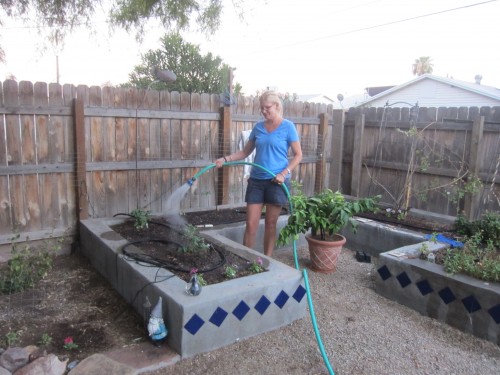 Diane Nickle
The GardenGuru
HELLO fellow gardening enthusiasts--and thank you for visiting my web site. My name is Diane and I am a long-time resident of Tempe, AZ and have been an avid gardener for as long as I can remember. I have a bachelor's degree in Applied Biological Sciences with an emphasis in Urban Horticulture from Arizona State University, but I think some of my most valuable desert gardening expertise has come from years of experimentation in my own gardens.
Gardening in the Desert Southwest can be very challenging, but I can save you a lot of time and money by sharing my knowledge & experience. Garden Guru AZ can help you create a thriving desert landscape, vegetable garden or succulent garden no matter how large or small your project.
One of the fortunate aspects of living in the valley is that gardening is a year-round project. I harvest vegetables throughout the year, and with such an abundant yield, I get to share with family, friends and my local food bank.
A passion of mine is collecting and propagating succulents. The Sonoran Desert is a unique part of the world and the only home to the Saguaro cactus, which I am fortunate to have in my yard. Native plants are a wonderful addition to any landscape, whether in the ground or in containers—and not only because they require a minimal amount of water. By incorporating native plants into your garden space, you can create a haven for birds, mammals and other wildlife by providing natural shelter for them. I love to sit on my back patio watching all the birds and butterflies that visit my gardens.
I am a firm believer that water is a precious resource and should be treated as such no matter where you live. One thing my education has taught me is that I can live by this principle and still create lush and beautiful landscapes. There are so many gorgeous options that do not require excessive water usage and yet provide adequate tree and shrub to avoid the "heat island effect" that is such a problem in desert cities. A well-planted yard provides a peaceful atmosphere, increases property value, and reduces the cost of cooling your home.
My motivation for starting this business came from many people I have met who struggle with growing plants in the Valley of the Sun. I have been a "garden coach" to friends and acquaintances for many years and would now like to offer my services to the general public. I offer reasonably priced, customized coaching and would love the opportunity to help you create the garden of your dreams.
I look forward to working with you!